Painting in the south of France
In late June, I traveled to the south of France to meet a group of writers. I am so grateful to my dear friends Julie and Laura for inviting me to join them in their amazing adventure. Inspired by their writing discipline, I spent my days outdoors, chasing the light as it moved across the city scape. There was beauty everywhere I looked; scenes flashing by, just begging to be painted. I was in the city of Arles, where Vincent Van Gogh lived and worked between February 1888 and May 1889. During that time he produced
187 paintings
. During my time there, I painted in plein air and enjoyed visiting the Vincent Van Gogh Foundation, just around the corner from our apartment on Rue Doktor Fanton. Here is more about the trip. Enjoy!
---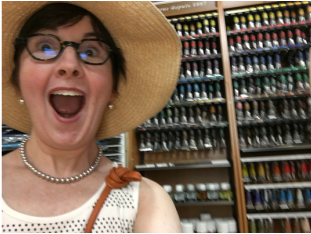 After packing 25 pounds of art materials into the biggest suitcase that I could handle (on my own) I flew to Paris, then took two trains to meet my friends in Arles, France. In my luggage were my cigar box easel and tiny camera tripod along with a selection of "artist pigments in vegetable oil". I was thrilled to find a bookstore right across the street from our apartment that sold little bottles of mineral spirits. I was set! See joyful selfie ----->>
Below are photos of the paintings that I made on my journey. These paintings are for sale and will be on view at my studio starting August 12 at
Brazee Street Open Studio Night
.
---
The train from Paris to Marseille (usually a 4 hour journey) took 6 hours. While we were stopped in one place, I looked out my window to find this little scene. Fortunately, I had my watercolors and some postcards in my carry-on bag, so I sat and painted to pass the time. This was somewhere near Lyon.

---

Upon arriving, I was greeted by my hosts who were enjoying wine, bread and cheese. Here is my watercolor painting of Laura.

---

One of our first days, Laura drove the car from Arles to Martigues where I set up to do my first oil painting. I set up on a rocky jetty, and got busy painting. Julie found green beach umbrellas at a local shop. We all ate roast beef sandwiches and took a dip into the Mediterranean. The water was quite cold, but absolutely beautiful. It was a gorgeous and windy day!

---

For this painting I set up outside the Place du Forum and looked back at the square. There is a small, dark gold menu sign in the bottom rear quarter of the image. That menu is for the Terrace Cafe where Van Gogh and his friends would hang out and drink Absinthe. I chose not to partake! Arles streets are lined with gorgeous ironwork lamps that hang from buildings and terraces. Tourists from Taiwan, Germany, and Japan stopped to talk to me. I think they thought I was French!

---

On this day, several of my friends went touring the countryside. I preferred staying in the city. This little corner was near a busy coffee shop and down the street from a store where a lovely woman wove beautiful woolen cloth on a massive loom. She designed her own shawls. I purchased a gorgeous hat that she crocheted. It has all of the colors of southern France as well as a felted wool sunflower. It will be nice to wear on a cold day in Cincinnati.

---

I could not resist painting the little green bike and the orange doorway in this scene. This was right outside the front door of our apartment. I think that the owner of the building was trying to tell me how orange to paint her door. And then she sat in her car and watched me for about 10 minutes before driving off. Excusez-moi!

One of the days, Laura drove us to the Pont du Gard where I did both a watercolor and an oil painting of the ancient Roman aquaduct. We swam, too. The river water was warmer than that of the sea, and I wore my swim goggles to cross the river and touch the rock on the other side. Very daring of me!

---

---

On a morning walk, I saw this little lunch spot.

---

This is the coliseum from the days when the Romans ruled the land of Gaul. At that time, Arles was a central location for the Roman empire. Today, can you imagine living in the apartments across the street and seeing this out your window every morning? Wow. That would be so cool.

---

We visited St. Paul's Asylum where Vincent Van Gogh painted and was treated for mental illness. It was a serene place, with lavender, olive and almond trees, and a statue of Van Gogh carrying sunflowers. A sad, but beautiful place.